Beauty: English to Bangla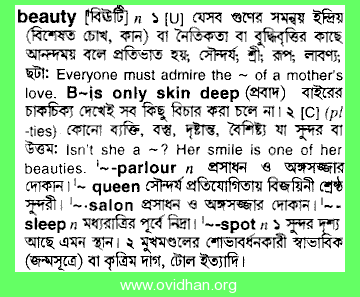 Beauty: English to English
Beauty (n.) A beautiful person, esp. a beautiful woman.
Beauty (n.) A particular grace, feature, ornament, or excellence; anything beautiful; as, the beauties of nature.
Beauty (n.) An assemblage or graces or properties pleasing to the eye, the ear, the intellect, the aesthetic faculty, or the moral sense.
Beauty (n.) Prevailing style or taste; rage; fashion.